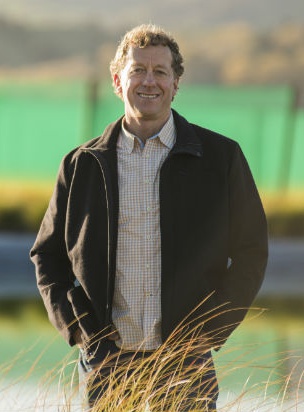 Geoff's "passion for growing things" has been the driving force behind Riversun since he founded the company in 1982. His tireless focus on plant health and quality has enabled the Gisborne nursery to evolve from a small local business into the premium supplier of grafted grapevines to the New Zealand wine industry and, more recently, into plant importation and propagation for other horticultural sectors.
As a teenager, Geoff found inspiration working on his father's orchard and vineyard developments, which led him to pursue a degree in Horticultural Commerce at Lincoln University. He credits winning the Wrightson "Young Orchardist" award in 1985 as a real turning point, since the prize enabled him to embark on a study tour of European horticulture. Geoff returned home brimming with new plans and procedures for plant hygiene, propagation and mechanisation. Following a term as chairman of the New Zealand Grape Vine Improvement Group's certification committee and numerous research tours overseas, Geoff initiated an independent certification system for Riversun's production methods, and, more recently, has overseen the company's ventures into plant importation.
Geoff has a Bachelor of Horticultural Commerce from Lincoln University and is the Vice Chair of NZ Plant Producers Incorporated (NZPPI) and represents the NZPPI Board for the NZ fruit and vine nursery sector.
In the 2017 New Year Honours Geoff was made an Officer of The New Zealand Order of Merit (ONZM) for services to the wine industry. He was also made a Fellow of NZ Winegrowers at the 2017 Air NZ Wine Awards in recognition of his dedication to the improvement of the quality of vineyard planting material.
CONTACT
0800 11 37 47