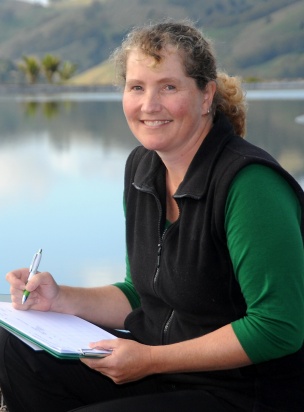 Joanne Austin is Riversun's Compliance Coordinator. She makes sure all our systems and processes meet the many standards we need to adhere to.

Joanne says compliance is all about being able to certify that our plants are healthy and virus free, and can be completely traced back to the source.  "Health and safety is also a big part of my role and I'm often called out of the office to help with all aspects of the business, which I love."

Joanne came to Riversun after seven years on the Man o' War Vineyard on Waiheke Island – which funnily enough planted ourvines. She has worked with quality systems her entire career since moving from Taranaki to Gisborne as an 18 year old. She has honed her skills in a diverse range of roles in the horticulture, meat and dairy industries.

"At Riversun there are many different processes in each department. My job is to understand the overall picture of what we're trying to achieve and apply it to the detail. It's a huge advantage that I've worked on vineyards and understand the logistics."

Joanne's role at Riversun offers the perfect mix – all her skills are needed, there's plenty of time outside the office, and she's part of a team that she believes in.

"We do a lot of trial work, the managers are constantly monitoring what works and what doesn't, and those findings come back to me to tweak our processes and our documentation. We're constantly refining."

The Riversun philosophy of looking after the environment is part of everyday life for Joanne at work as well as at home. "We are creating healthy plants from healthy soils and putting back more than we take – we're doing all we can to live within our footprint." Which is precisely what she does at the home she shares with her partner, horse, and many other farm animals.


CONTACT
joanne@riversun.co.nz
0800 11 37 47
0275 919 400