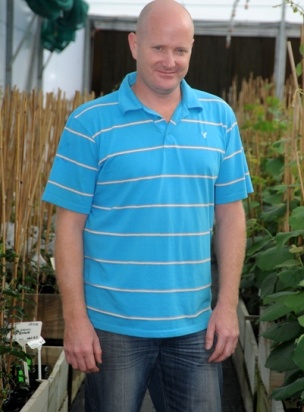 As Riversun Chief Executive Leo Kelso has his finger on the pulse of the business, and has mastered the art of being in several places at once. He's responsible for Riversun's day-to-day operations, overseeing everything from finance to production.

"My job is about ensuring our staff are supported, that our processes are running efficiently, we're meeting our targets and delivering on our promise of excellence to our clients."

On any given day Leo could be with our 115-strong production team, out with our 30 field staff, or back at HQ supporting our sales, finance and administration teams.

He started with Riversun in 2012 at our Matawhero nursery and quickly moved into a field operations role. In that time Leo oversaw the prepping of vines to be planted out, the establishment of a dam and frost protection system, and setting up a new source block.

Born and bred in Gisborne, Leo had a long stint with cider makers Bulmer Harvest and has also run his own business. Challenge and change have been constant themes throughout his working life, and when he's not at work he loves nothing more than spending time with his two daughters and wife Rowena. 
CONTACT
leo@riversun.co.nz
0800 11 37 47
0279 322 685