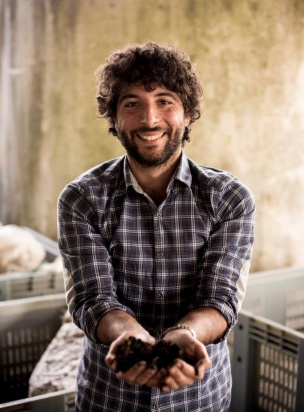 Quickly dubbed the 'Sustainability Man' on his arrival at Riversun, Mauro Negri's role is all about helping us achieve our goal of becoming truly sustainable by 2020.
Mauro's current focus is on the vineyards and his days are filled with compost, worms, recycling and renewable programmes, as well as research and development.
Mauro's background is in industrial engineering in Italy but he decided to take a different direction and in 2012 moved with his partner to Australia, spending time on organic farms on both sides of the Tasman.
He's enjoyed the challenge of transferring his engineering skills and experience to a new context.
"I like making rational uses of natural resources and at Riversun that way of thinking comes easily. Part of the appeal of the role was getting to use my engineering experience to investigate renewable energy options."
Along with rapidly learning about organics and biodynamics, Mauro is growing his knowledge of viticulture and beekeeping.
Mauro grew up on a vineyard with his grandfather in Abruzzo, so Gisborne feels a little like home.
CONTACT
mauro@riversun.co.nz
0800 11 37 47
027 625 9847