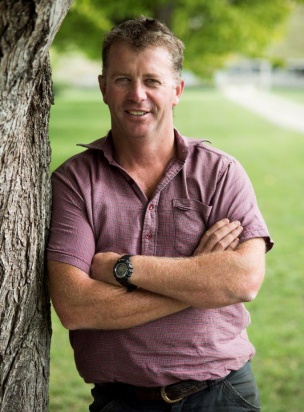 Simon McNeil manages Riversun's Whatatutu block, leading a team that grows from eight to 15 at harvest time. Up to three million vines pass through the 30-hectare block each year.
Gisborne born and bred, Simon grew up on a farm at Ngatapa and his working life today is similarly close to nature.
"Most of my time is on the land, organising the planting and harvest with lots of input from Leo and Geoff," Simon says.
Simon has been with Riversun since 2000 and was Field Operations Manager for seven years. He has also worked on the mechanical side for several large horticultural businesses including Leaderbrand and Cedenco.
Simon enjoys his role's big-picture focus, while acknowledging that no matter how good the plan, on any given day it might need to change – and change again.
"Every day there are natural variables – you need to be a weather man and to be prepared for what's coming. Plans can change every five minutes because of the weather, especially at Whatatutu."
Rain or shine, Simon's job is to get the vines in the ground and nurture them until they are ready for replanting out as high health, true to type plants.
"We have a great team out here, with both permanent staff and casuals coming back each year. We employ a lot of people from Whatatutu and Te Karaka and really feel part of the community."
In summer, Simon's weekends are busy supporting his two keen cricketing sons.
CONTACT
simon@riversun.co.nz
0800 11 37 47
021 464 181