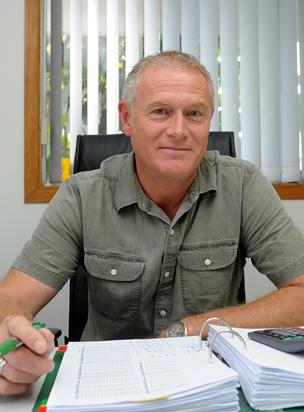 Stephen Robertson joined Riversun for what he thought was a couple of months work lifting vines... that was back in 1996.
Today he's the Chief Financial Officer with a job that ensures Riversun is up with the latest in regulatory requirements, as well as overseeing all the IT requirements, wages and HR.
Stephen has been involved with the Thorpe family for two generations, having worked for Geoff's father on his vineyard.
He spent more than a decade in his own business, and dabbled in the kiwifruit industry before lending a hand at Riversun. From there he was quickly guided into the office and he's been there ever since.
"My biggest challenge is staying on top of what is happening around the world and how it may impact on Riversun and its people," he says. "It is such a fast-moving business." 

As a member of the Senior Leadership Team Steve works collegially with the other leaders in Sales & Marketing, Operations and Risk & Compliance on the day to day operations of the business, with the aim of delivering on Riversun's objectives.
Stephen is often a bouncing board for ideas and brainstorming sessions – and that's another facet he loves about his work.
"Geoff is such an entrepreneur that he's often moving at a hundred miles an hour – I tend to be the one who gets everyone just to stop and reflect for a moment."
Stephen has kept his hand in property development, and likes nothing more than to watch a good bit of sport.
CONTACT
stephen@riversun.co.nz
0800 11 37 47
0274 307 297