Order
Riversun's grafted potted kiwifruit vines have been grown to the latest KVH standards, with a meticulous testing and visual monitoring regime.


STOCKLIST
We are now taking orders for Summer 2022/2023 delivery. For more information contact Rochelle Brown on 0800 11 37 47.
PHYSICAL SPECIFICATIONS
Plants are approximately 1m high and grafted at least 250-300mm from the soil
1.2m stake

PRICING & PAYMENT TERMS
Please enquire for pricing.
50% deposit (plus the full GST) is due on signing, with the balance due 7 days after delivery.

DELIVERY
Gisborne is currently a 'recovery region' for Psa–V. Riversun Nursery currently meets the requirements to sell plants certified under the Kiwifruit Plant Certification Scheme (KPCS) "Restricted Certification' which means plants can only be moved to Psa-V positive orchards, within our region or other 'recovery regions' in the North Island only. We are unable to ship to 'exclusion or containment regions'.
More information on regional classifications, including maps, is available on the KVH website.
We deliver grafted kiwifruit vines in Summer (December-January) and Winter (June-August):
Vines delivered and planted in summer are ready to grow once planted, but need irrigation available straight away and will need constant maintenance to keep up with training. As conditions are warmer they are less prone to Psa-V.
Vines delivered and planted in winter are dormant - so are easier to handle, less prone to damage and easier to store if there are delays in planting.
All plants are transported in covered trucks in accordance with KVH Protocol for Nursery Stock.
PLANTING IN SUMMER
Excerpts from a series of articles in the Oct/Nov 2018 Kiwifruit Journal - contributed by Geoff Thorpe.
Why potted kiwifruit plants and why plant in summer? Download the article here.
Secrets of success - a step by step guide to summer planting. Download here.
QuickLinks
NEWS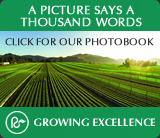 David and Judi Grey of Avogrey Avocados, Gisborne featured on Hyundai Country Calendar.
Companies are seeking strategies to reduce water use, environmental impact and mitigate risk in drought...
View all news ›