Kiwifruit Credentials
Before we were known for grafted grapevines we were known as kiwifruit pioneers, with Riversun Nursery established in response to a surge in new plantings of green kiwifruit orchards in Gisborne in the early 1980's.

We have been through the highs and lows of the kiwifruit industry and have always been innovating. Kiwifruit took a back seat in the early 90s when our focus was on certified grafted grapevines. We returned to kiwifruit in 2010, pulling production completely when Psa-V hit the Gisborne region.

In November 2011, in response to the arrival of Psa-V in the Bay of Plenty, Zespri proactively searched for rootstocks that were tolerant to the bacteria with Bounty 71 rootstock discovered by Plant & Food Research as part of the plant breeding programme for Zespri.

Riversun gained Zespri approval to propagate Bounty 71 in late 2011. The first in the world to master large scale propagation of Bounty 71 rootstock, three months later we had over 30,000 Bounty 71 vines growing in 5 litre planter bags. By March 2012, we had another 20,000 in 400ml bio-degradable pots.

Working closely with Kiwifruit Vine Health (KVH) on a certification programme for the propagation of kiwifruit plants in a Psa-V environment, we were encouraged to apply our world-class expertise in plant importation and quarantine, plant health research and virus testing (through Linnaeus laboratory), certification, traceability and efficient nursery production.

Today, Riversun grows high health potted kiwifruit plants in an under-cover environment, to meet demand from New Zealand growers for certified potted kiwifruit plants. We offer two kinds of kiwifruit rootstock – Bruno and Bounty 71 – onto which we can graft a full range of fruiting cultivars. 

Throughout our evolution, Riversun's goal has remained constant: to provide plant material that is true to type, of high health and known virus status, and produced to exacting physical specifications.


 
Riversun's story on mass kiwifruit propagation featured on Rural Delivery TV in 2014.

OUR NURSERY
Riversun has gained an international reputation for its certified production methods for plant propagation. The ultimate goal has always been to provide plant material that is true to type, of high health and known virus status, and produced to exacting physical specifications.


Best practice
Riversun kiwifruit vines are grown in an indoor nursery with strictly controlled sanitary procedures for everything from planting media and water purity to seed and cutting selection to traceability throughout grafting and planting. The nursery is designed to create an environment not suited to PSA with optimal air and soil temperature and just the right amount of humidity, soil moisture and nutrients. All material bought in, including seeds and cuttings are sanitised using high hygiene protocols and source grafting material comes from Nelson which is classified under KVH as an 'exclusion zone'.

Linnaeus laboratory provides routine testing for viruses in kiwifruit vines and has in the past also provided diagnostic capability during early stages of the Psa-V response. Linnaeus has also carried out various research trials for Zespri and KVH that contributed to the Psa-V research effort.
QuickLinks
NEWS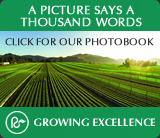 David and Judi Grey of Avogrey Avocados, Gisborne featured on Hyundai Country Calendar.
Companies are seeking strategies to reduce water use, environmental impact and mitigate risk in drought...
View all news ›