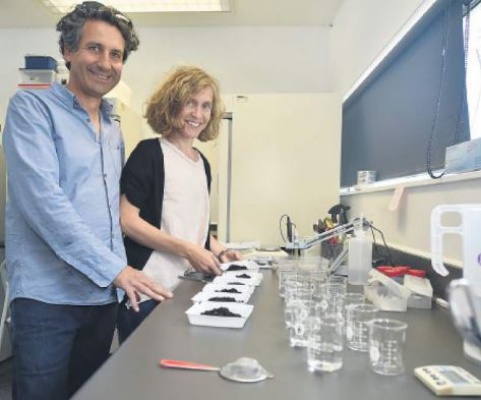 Dr Alvaro Vidiella-Salaberry, 48, and Irene Lopez-Ubiria, 44, decided to leave Spain with their children six years ago today.
They wanted their children to experience a different upbringing and education system, so began to look at countries that offered these things as well as a better fit for them professionally.
As scientists, or agronomist/agricultural engineers, they felt stifled in Spain. The rich cultural history of their country was beautiful but it hampered growth, with long-held traditions restraining them from new ways of doing things in their professional lives.
So on New Year's Eve 2010 from their home in Cordoba, a city in the south of Spain, they began to look online at other countries and jobs available.
They particularly loved New Zealand, the environment, the work culture and ethics, its low population density, and it looked like a great place to raise a family.
They have found, as they had hoped, that this is a country more accepting of change and creativity.
Alvaro was the first to get a job, with New Zealand Avocado as the R&D Manager in Tauranga, and the family arrived in 2011.
After four years working there, Alvaro asked Riversun's Geoff Thorpe, whom he had met through work, to be his referee as he was about to start looking for other employment. Geoff offered more than that. It coincided perfectly with a job at his company in Gisborne.
Today the couple both work at Riversun. Alvaro is the technical director and Irene is the agronomy manager for Linnaeus.
Their shared love of science is reflected in the level of education they attained in the subject. Alvaro has a PhD and Irene a masters.
They moved to Gisborne last year as a family of six as their youngest son, 2, was born a Kiwi.
"When we decided to move to Gisborne from Tauranga, people would say to us 'you are crazy, it is so isolated, what are you going to do there?'"
So far that hasn't been a problem.
They are doing a bit of Kiwi DIY on an old villa they bought at the same time as building a new home on a section just out of town.
The family have found Gisborne very welcoming and they love being so close to the beach.
"We're very happy here. And with the activity in Riversun it is very exciting."
Fitting in
Riversun is a good fit with their work ethics and principles.
They are driven by doing things better and want their science to have a positive social impact as well. It is not just the bottom line that drives them, or Riversun. It is about sustainability, the community and even more than that, the world we all live in.
"We believe in sustainability improvement, we believe in the social side not just the economic side. That was something very attractive about Riversun.
"We know that we are in a commercial environment but we don't have to remove our ethical principles," says Irene.
Alvaro agrees.
"It's good to work for a company that wants to do things as well as possible."
In Spain they also worked in the horticulture industry, mostly with plums and olives.
Alvaro knew English before they moved here but learning to understand Kiwi and the fast-talking New Zealanders was a whole different ball game.
He remembers his first day on the job in Tauranga. He was out in a field with some other people and they were all talking about a "picking machine". Alvaro knew there was no such thing as an avocado-picking machine but he listened as they talked about how much it could pick, how long it would take and he began to wonder, 'Maybe New Zealand does have a robot that can pick avocados?'
Then he realised they were saying "packing machine".
It's the vowels that trip him up — that and the speed at which we talk. But you get used to it, he says.
Irene and the children arrived in the country without any English. For them it was full immersion combined with courses they paid for to get their immigration visas.
The children have also had great support through the schooling system.
At home they speak Spanish only. Irene wants their youngest to be brought up in the family's native tongue even though he was born a Kiwi. But at work and outside of home it is English.
Alvaro also speaks Italian from the five years he spent there while growing up, and Irene speaks Basque — one of the earliest known languages from the north of Spain, where she grew up.
There are many differences between life in Spain and life in Gisborne.
They miss their families the most but Alvaro's parents are here at the moment and Irene's brother has already visited twice.
Everyday differences include less aggressive traffic, and they absolutely love New Zealand apples, with so many varieties to choose from and always a lot fresher than they are used to.
But they do import their own olive oil. Their last import was 150 litres and it lasted a year and a half. You can get the same high quality organic olive oil in New Zealand but it is $50 a litre compared to $10 a litre from Spain, and Alvaro's friend makes it there.
They also love going to the Gisborne Farmer's Market every Saturday. Alvaro takes the kids and they leave with five huge bags of fresh fruit and vegetables. They love that it is sold to them by the hands that grow the products.