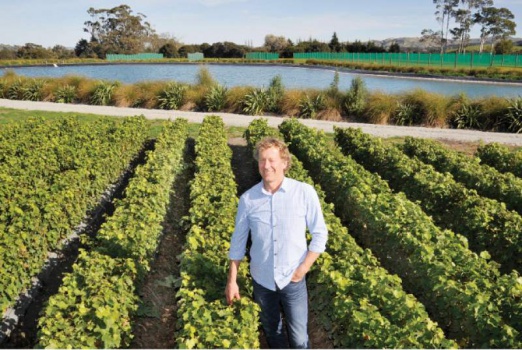 RIVERSUN director Geoff Thorpe had to have a sit down, then said nothing for five minutes as the contents of the letter he had just opened sank in.
Overwhelmed and totally stunned were the first reactions, he said.
After five minutes he turned to look at his wife Anna and asked, "did you know about this?"
"Maybe," she said.
Since then, the couple have kept the news under their hats until today.
Mr Thorpe has been made an Officer of The New Zealand Order of Merit (ONZM) in the New Year Honours list for 2017 for services to the wine industry.
Despite being hugely gobsmacked and honoured, it was being recognised by his peers, the people in the industry and out in the community that really staggered him the most, he said.
"I've been thinking back on it. The award is given to me but it's really to my family, my wife, my kids, my parents and so many others who have supported me throughout the years.
"I am nothing without them and I always say that.
"And everyone who works at Riversun. The seasonal workers, I am nothing without you turning up at 5 in the morning and doing the mahi.
"It's a total team effort. It's in recognition of everyone who has been part of the Riversun journey over the past 35 years, those who get in behind the scenes and make it happen."
Flattered and humbled
Mr Thorpe said he was hugely flattered, privileged and humbled.
"I spent the first few weeks absorbing it. It was mind blowing and very humbling.
"I don't do what I do for this. I do it for other reasons, to be the best you can be and to try to create a great business based on my lifelong passion for growing things. That is what has driven me.
"I get huge satisfaction to see all our staff be the best they be, and our clients to hopefully have the best vineyards they can have."
Mr Thorpe established Riversun Nursery in 1982 to supply a range of grafted plants to the Gisborne horticultural industry.
Having visited grapevine nurseries, universities and plant breeders around the world throughout the preceding decade Mr Thorpe decided in 1998 to focus Riversun's production solely on the New Zealand viticulture industry.
In 1999 he established Linnaeus Laboratory to provide the vine nursery industry with an accredited virus testing service.
In 2000, Riversun launched New Zealand's first independently-audited grapevine certification programme and in 2002 signed up licensee agreements with several offshore grapevine breeding organisations.
In 2003 he opened New Zealand's first privately-operated grapevine quarantine facility and over the next seven years facilitated introduction of more than 120 new varieties and clones to the wine industry.
In 2006 he played an instrumental role in co-establishing the New Zealand Winegrowers Grafted Grapevine Standard, adopted by all grapevine nurseries by 2012.
Since 1995 his company has been a major sponsor of the wine industry's annual Romeo Bragato Conference.
Most recently Mr Thorpe has helped bring together New Zealand Winegrowers, New Zealand Viticulture Nursery Association and other industry players to establish an internationally- recognised research project designed to allow the vine nursery industry to optimise the microbial health status of certified grafted grapevines. 
Photo courtesy of The Gisborne Herald.