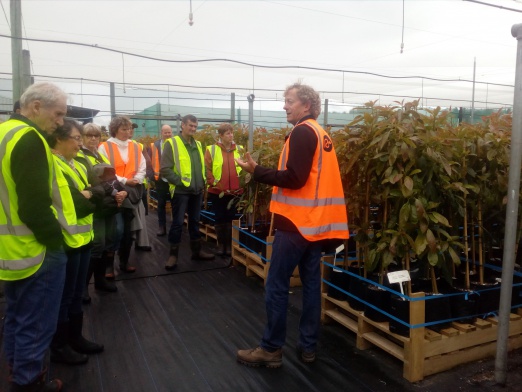 In October, Seeka invited Bay of Plenty Avocado growers to Riversun Nursery in Gisborne to see first-hand the progress of grafting the new GEM variety of avocado for supply to growers.
GEM was discovered in the 1980s, and the cultivar acquired by Seeka came out of the University of California Riverside avocado breeding programme. Seeing several advantages over the dominant Hass variety grown in New Zealand, and to potentially reduce dependence on just one main variety, Seeka acquired the New Zealand rights for GEM from the master licence holder, Westfalia, in 2014.
Seeka chief technical officer Dr Jonathan Dixon says GEM are more compact and slower growing which means they are less prone to the problem of alternate bearing.
GEM is being exclusively commercialised and evaluated by Seeka with only two licensed nurseries in New Zealand, building up stock to supply growers. "Our focus over the past couple of years has been to get mother trees established and build those numbers up so we have a good supply of budwood for grafting," Dr Dixon said.
Riversun Nursery signed a contract for a license with Seeka in 2015, with the intention of increasing budwood sources to meet the demand from Seeka's growers for GEM trees. The process was started using three of the GEM 'mother' trees in the Genepool block in Te Puke to graft onto various rootstocks. "Grafting avocado plants is a complex process, not to mention understanding a new variety and how it performs in a nursery environment", says Riversun's managing director, Geoff Thorpe.
Riversun are committed to helping Seeka establish this new variety in New Zealand in the shortest possible time. "We are really 'pushing the envelope' to fast track the multiplication of GEM trees by firstly providing the best budwood for grafting while maximising recovery and quality", Geoff says.
From the initial graftings there are now a couple of hundred GEM trees at Riversun's Matawhero Nursery and Waihuka source block. The budwood from these trees were used for grafting the 2017 supply to growers with the first GEM trees being despatched in November to three growers in the Bay of Plenty and Coromandel.
At the October visit, Dr Dixon reminded growers of the intricate care that has gone into producing the GEM trees and the importance of them doing everything in their power to give these trees the best possible chance of survival. Dr Dixon said he is making himself available to provide full technical support to growers during the initial planting and ongoing maintenance of the trees.