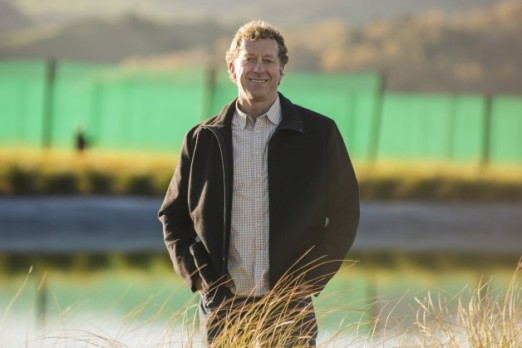 What's your favourite part of the day?
GT: Waking up at our Wainui Beach hillside home to the sun rising over the Pacific then walking down to feed the chooks, collect the eggs and go for my morning swim in the ocean.
What inspires you each morning?
GT: The views, the bracing swim, the rising sun, the waves (whatever the weather) and then returning to breakfast with my family – life is amazing and after all that, I feel I can take on the world every day.
What trends do you see emerging in New Zealand wine today?
GT: Sauvignon Blanc has become more dominant in our grafting book over the last five years, but we expect this to level out and rebalance over the next few years as all the new plantings of it come into full production.
Any other trends you see right now?
GT: Consolidation of our client base, as more grape growers start to sell or lease to the larger wine companies. It is increasingly tough out there for those who do not have very strong brands, distribution or economies of scale.
Which new grapes show the biggest promise?
GT: Albarino is gaining traction, albeit from a very small base. Of all the new varieties we have imported (30+), this one has seen people start to expand on their original trial plantings.
What are the biggest pressures you see in grape growing today?
GT: Everyone struggling with the reality of steadily increasing costs, especially wages and spraying costs, thanks to powdery mildew, but with no ability to lift fruit or wine prices to compensate – the margins are under intense pressure for everyone.
What effect is climate change having?
GT: Every year we are seeing things never experienced in 30 to 40 years of grape growing and seasoned growers around the country all say the same thing. Last winter was the wettest on record in most of New Zealand and Jan 2018 has been the hottest month ever. Humidity and overnight high temperatures caused intense disease pressure, Central Otago hit veraison almost a whole month ahead of normal and was the first region to start harvest this year. It's crazy stuff and very worrying. What next?
How is climate change affecting the taste of wine?
GT: With regard to climate change and the taste of wine, I am not sure. It all depends on the last few weeks of ripening – if we still get good ripening, we can still make outstanding quality wines. Brix levels and berry sizes were running well ahead of average in January and February this year but seem to have levelled out and now look to be coming more in line with long term averages.
How has your wine drinking changed?
GT: Less is more. I am definitely drinking less (smaller servings in the glass and only on occasions or after a really full on day), and I am drinking great wines whenever possible.
What is your favourite wine?
GT: It's too hard to single one out. It all depends on the occasion, location and time of year.
When did you decide to dive in and work with wine and vines?
GT: I started when my father planted a vineyard in Gisborne in 1977 and then I started grafting vines in 1983 when phylloxera arrived in Gisborne. I became committed to trying to make the best quality grafted grapevines in the world.
What makes wine and vines rewarding?
GT: The wonderful people in New Zealand and all around the world, be they our amazing staff, fellow nursery folk, scientists, breeders, growers, wine makers or marketers. We are so blessed to have many of the smartest and most talented people in the wine world right here in New Zealand. It's also seeing our clients, large and small, realising their vision and knowing our baby vines have helped to play a small but critical part in their journey.
About Geoff Thorpe
He founded Riversun Nursery in 1982 to supply grafted grapevines to Gisborne vineyards following the discovery of phylloxera, which destroys vines by attacking their roots.
Riversun has since grown to become the biggest supplier of grafted grapevines to the New Zealand wine industry. In 2000 Geoff helped rescue a collection of grape varieties, clones and rootstocks from a national collection at Ruakura. That year he also launched the first independently audited certification programme for grafted vines and in 2001 he entered into licence agreements with ENTAV-INRA and other overseas plant providers to source new vines for the industry. Then in 2003 he established New Zealand's first privately owned Level 3 grapevine quarantine facility to import new grapevine plant material. He is strongly involved in the New Zealand wine industry and has sponsored the Bragato Conference since it began in 1995.