Stocklist
We currently have limited capacity for both seedling and clonal (Dusa and Bounty) avocado trees for 2021 delivery.
For more information on avocado rootstocks, fruiting varieties and ordering click here.
As we are a wholesale nursery we can only supply commercial avocado growers. A minimum order of 50 trees is required and all trees must be planted at the same PPIN location.
QuickLinks
NEWS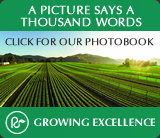 Companies are seeking strategies to reduce water use, environmental impact and mitigate risk in drought...
New Zealand Pinot Noir punches well above its weight when it comes to quality.
View all news ›