Nursery
BEST PRACTICE
Riversun has gained an international reputation for its certified production methods for plant propagation. Throughout its evolution, the nursery's goal has remained the same: to provide plant material that is true to type, of high health and known virus status, and produced to exacting physical specifications.

Riversun avocado trees are grown in a nursery environment with strictly controlled sanitary procedures, designed to minimise the risk of spreading Phytophthora cinnamomi or other infectious diseases and pests.


STRINGENT PROTOCOLS
In the case of avocado propagation, from inception Riversun has modelled its procedures on the stringent protocols established by the Avocado Nursery Association of South Africa, under its nursery improvement scheme. Similar in a number of respects to the avocado certification programme in California, the South African protocols are designed to:


Ensure source materials are regularly virus-tested and free of Avocado Sunblotch Viroid (ASBVd);
Minimise the possibility of infection by Phytophthora cinnamomi – an extremely destructive disease of the feeder roots of avocados; and
Set minimum specifications for planting; root development and distribution; tree size, shape and graft union; stem diameter, and so on.

These protocols ensured a smooth transition for Riversun when the NZ Avocado Growers' Association (NZAGA) introduced NZ's first high health scheme for the production of avocado nursery plants in 2017. This is an independently audited scheme which demands rigorous hygiene practices, record keeping and traceability, movement controls, staff training and crop protection, as well as testing for ASBVd and Phytophthora.
Riversun also have 'end-to-end' standard operating procedures throughout the entire growing cycle for everything from planting media and water purity to seed and budwood selection to traceability throughout grafting and planting. Riversun ensure that all plant material is virus-tested by an independent laboratory using state-of-the-art PCR diagnostic techniques.

TRACEABILITY FROM SOURCE MATERIAL TO DISPATCH

Naturally, traceability is an essential component of each step in the propagation process. Riversun's computerised bar-code system documents a tree's history throughout the production process, including seed planting date, grafting date, rootstock and scion varieties, and virus status.

With Riversun, you can be confident that your avocado orchard will be getting the best possible start.
QuickLinks
NEWS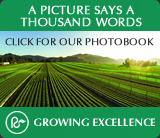 David and Judi Grey of Avogrey Avocados, Gisborne featured on Hyundai Country Calendar.
Companies are seeking strategies to reduce water use, environmental impact and mitigate risk in drought...
View all news ›