Rootstock Guide
The Riversun Rootstock Project is an ongoing research programme initiated because rootstock information published specifically for New Zealand conditions remains scarce, and many of our clients request assistance in this area when planting new vineyards or replacing old ones.
As part of the project we have polled viticulturists and winegrowers in each region, asking them to review our findings and questioning them in turn, in order to pool experiences and identify any regional trends and contrasts in rootstock performance.
We have completed that process for the five most commercially important rootstocks:
101.14
Schwarzmann
3309
3306
Riparia Gloire
pdf | 1.2 MB | by Nick Hoskins, Dr Roderick Bonfiglioli and Chris Wright
This table is intended as a quick reference to compare rootstock characteristics and performance under New Zealand conditions.
QuickLinks
NEWS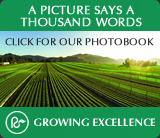 David and Judi Grey of Avogrey Avocados, Gisborne featured on Hyundai Country Calendar.
Companies are seeking strategies to reduce water use, environmental impact and mitigate risk in drought...
View all news ›