Sustainable
Geoff Thorpe, Managing Director of Riversun, has focused on plant health and quality for the past three decades.
Currently, the Riversun operation encompasses 100 ha with a grapevine source block, field nursery, processing facility and potted plant nursery. We employ a team of 70, rising to 250 staff during peak season, all of whom understand the key principles behind the operation's continued success: vine and plant recoveries, sustainability, quality and efficiencies.
In 2013, Geoff set Riversun on a new journey, Toitū 2020: to strive to become truly sustainable. His interpretation of sustainability is: Can we keep doing this on the same land, in the same community and on the same planet for the next 100 years and the next 1,000 years? If the answer is no and it needs to be done, the team are tasked with finding the most sustainable method to achieve it.
"For the Riversun team, the coming years will see them share knowledge to optimise plant health and lighten the footprint on the environment. "It's not always about reinventing the wheel but about harnessing technology, knowledge and science to find ways to make the wheels turn smoother," says Geoff
The vision to be truly sustainable continues to be front of mind at Riversun. As we move out of the age of COVID and all the challenges it threw at us, we recognise the importance of nurturing People, Plants, Place and Prosperity in order to achieve true sustainability.
QuickLinks
NEWS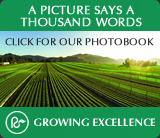 David and Judi Grey of Avogrey Avocados, Gisborne featured on Hyundai Country Calendar.
Companies are seeking strategies to reduce water use, environmental impact and mitigate risk in drought...
View all news ›