Ordering and pricing
Potted Vines
$5.75 + GST and freight for standard clones
$6.25 + royalty, GST and freight for ENTAV-INRA® and Premium Import varieties
Minimum order of 50 vines
ENTAV-INRA® and Premium Import vines are only sold in commercial quantities
ENTAV-INRA® and Premium Import vines are also subject to a non propagation agreement that must be signed before the vines can be dispatched
To order your exact variety/clone/rootstock orders need to be placed by August the year of delivery (dependent on material availability)
On occasion there will be surplus potted vines available at the start of the year. Please phone the client services team if you are after something specific which you would like to plant straight away.
Delivery
All vines will be dispatched around summer (December)
These are green, living plants. They need to be handled with care from dispatch through to planting. Treat them as you would a seedling plant going into your vege garden
Depending on quantity, potted vines will be dispatched in a returnable bin, or in a carton
Freight charge is dependent on your location – please ask the client services team for an estimate.
QuickLinks
NEWS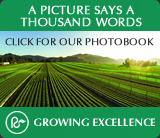 David and Judi Grey of Avogrey Avocados, Gisborne featured on Hyundai Country Calendar.
Companies are seeking strategies to reduce water use, environmental impact and mitigate risk in drought...
View all news ›