Planting Instructions
Riversun can provide the vines, but the secret to good establishment of your vineyard is in the planting. To give your vines the best possible start, please follow the instructions in our planting guide which can be downloaded here.
Also of importance is recording graftlot numbers and where in your vineyard these are planted (preferably plant the graftlots together, with their tags attached to the row post). If there are any concerns over the performance of your vines, the graftlot number is the best starting point to try and trace any issues.
QuickLinks
NEWS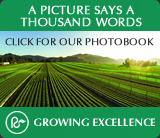 David and Judi Grey of Avogrey Avocados, Gisborne featured on Hyundai Country Calendar.
Companies are seeking strategies to reduce water use, environmental impact and mitigate risk in drought...
View all news ›