Employment
We have the following roles available:
GRAPEVINE BUSINESS:
• Assistant Field Nursery Manager
We are looking for an Assistant Field Nursery Manager for our grafted grapevine business.
Tasks & Responsibilities
Effective management and maintenance of all quality compliance programmes.
Active involvement in field operations including field preparation, planting, cultivation, irrigation, plant management, harvesting and environmental restoration.
Monitoring of blocks for plant health issues including pest and disease, rogues and virus and reporting on any issues to the Field Nursery Manager.
Maintain traceability of material through all processes.
Ensure that plant machinery and utilities are well maintained and available for operations as required.
Ensure the professional operation and administration of plant operations including the maintenance of written and electronic files, progress evaluations and reports.
Staff and contractors are led and managed in a proactive and appropriate manner.
Qualifications & Experience
BS in Viticulture, Horticulture or equivalent experience (Desirable)
Strong computer skills, including experience with spreadsheets.
Thorough understanding of vineyard farming practices and growing cycles.
Organised and detail oriented - ability to prioritise tasks and assign work to meet productivity and time requirements.
Proactive and effective communicator.
Interpersonal skills - develop and maintain effective work relationships.
Current Driver's License
• Field Nursery Supervisor
We are looking for a Field Nursery Supervisor to supervise permanent/seasonal staff and contractors and to work closely with the Assistant Field Nursery Manager with field nursery operations.
The role is focused on delivering coordinated field nursery-based activities to assist in optimising resource use, minimizing production costs, and maintaining quality standards.
Key responsibilities
Supervise the day-to-day running of an efficient and productive team, checking all documentation is accurate, and assisting Field Nursery Manager to achieve required outcomes.
Ensure accuracy in data gathering and data entry. Maintaining traceability of material through all processes.
Assist Field Nursery Manager in the reviewing, updating and implementation of Standard Operating Procedures (SOP)
Day to day monitoring of staffing needs in conjunction with the Field Nursery Manager
Assist in training, coaching and supervising staff for assigned activities
Make sure all equipment required is in good order, calibrated if required and available prior to operations commencing.
Monitor blocks for plant health issues including pest and disease, rogues, and virus as per the SOPs and report on any issues to the Field Nursery Manager.
Be proactive in learning about plant health, pest, and disease to assist in the production of top-quality vines.
Assist in the general maintenance of blocks.
Assist in block developments.

To apply for either of the above roles:
Applications close on Friday March 25
Please apply in writing to:
Anna Thorpe
Riversun Nursery Ltd
Email hr@riversun.co.nz
Or drop your application into our offices at 257 Awapuni Road, Gisborne.
LINNAEUS LABORATORY:
• Kiwifruit Sampling Assistants
We are on the search for Kiwifruit Sampling Assistants for our Kiwifruit Maturity Clearance and Monitoring Testing programme.
These are fixed-term roles, starting immediately and running through until the end of April 2022. You'll have a keen eye for detail, with the ability to work accurately and efficiently and be a great team-player. The sampling role does involve some physical work. Full job descriptions can be found here:
Linnaeus encourages applicants of all ages and backgrounds who have a strong aptitude for accuracy and efficiency, but you must already have a valid NZ work visa, and an IRD number. You must be double vaccinated against COVID19 and must be willing to undergo drug and alcohol testing. For the sampling role you must also have a clean drivers licence and your own vehicle.
Hours of work will vary depending on the volume of testing required throughout the pre-harvest and harvest season. This is estimated to range from 15-30 hours in the off-peak and from 40-60 hours during the peak of testing.
HOW TO APPLY:
Please apply via email, with a copy of your CV and cover letter to hr@riversun.co.nz
QuickLinks
NEWS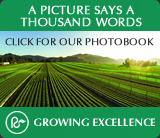 David and Judi Grey of Avogrey Avocados, Gisborne featured on Hyundai Country Calendar.
Companies are seeking strategies to reduce water use, environmental impact and mitigate risk in drought...
View all news ›